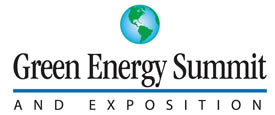 MACIC members and other university representatives are invited to the Academic Preview & Reception for the 2012 Green Energy Summit and Exposition.
The 9th Annual Green Energy Summit & Exposition, being held this March, is aimed at increasing awareness of opportunities and encouraging development in the green sector. Summit attendees are comprised of a broad range of stakeholders including business executives, non-profits, professional organizations, and educational institutions. More information on the Summit can be found at www.greenenergysummit.us.
At the Academic Preview & Reception, you will learn about the benefits of attending, exhibiting, or presenting at the Green Energy Summit. MACIC has been approached by event organizers about having a presence at the Summit, particularly on their "Green Careers & Sustainability Day," through exhibiting or presenting. It could provide MACIC with the opportunity to increase awareness of internships with green sector organizations and to promote the value of internships to students – high school through college – that are expected to be in attendance.
President Juli Pickering is planning to attend the event, but all members are encouraged to attend if interested and able.
2012 Green Energy Summit and Exposition
Academic Preview & Reception
Wednesday, December 7, 2011
3:00-5:00pm
Milwaukee Area Technical College, Mequon Campus (Room A289)
5555 West Highland Road, Mequon, WI
RSVP to Lori Hains: 414-571-4714 or hainsl@matc.edu.