Kohl's was awarded the 2012 Outstanding Employer Internship Program award at the June 2012 Celebrate Internships Employer Appreciation Social.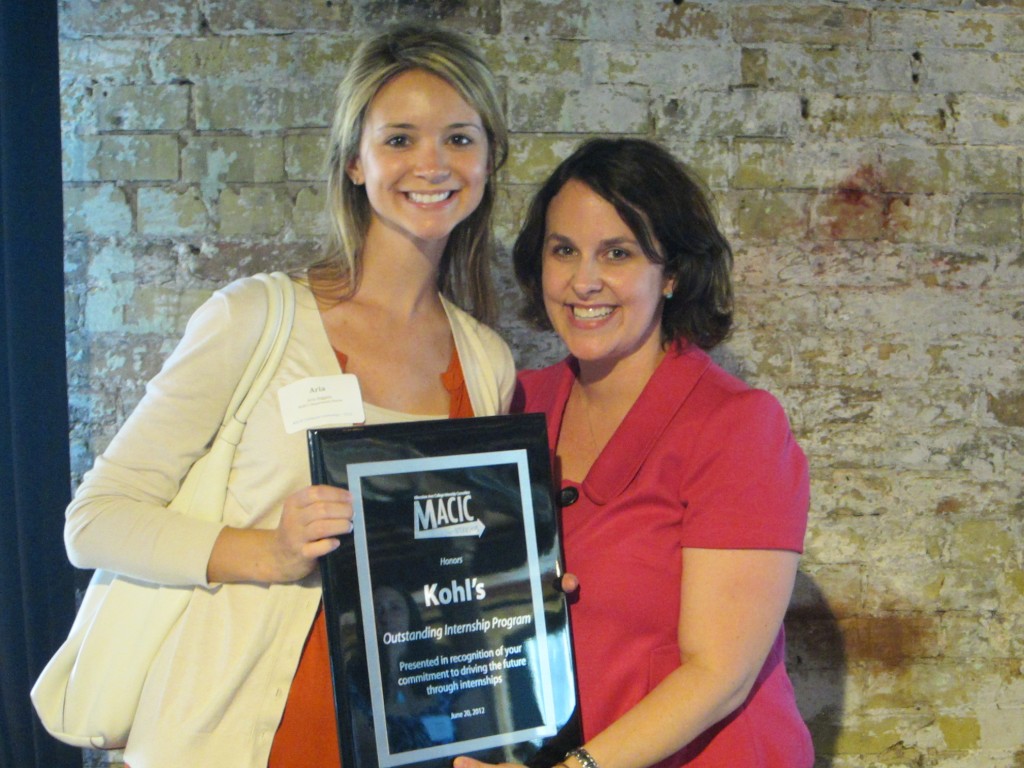 Aria Higgins, University Relations Coordinator with Kohl's, accepting the 2012 Outstanding Employer Internship Program award from Kristin Adler, representative from nominating institution, Marquette University Career Services Center.
Kohl's offers a complete internship program that allows students to have hands-on experience in the retail industry. Internships are available in a wide range of disciplines including accounting/finance, compliance, e-commerce, information services, learning and development, logistics, management, marketing, merchandise analysis, and purchasing. Kohl's strives to develop students into professionals with a strong skill set and knowledge base.
Kohl's interns are provided with sufficient training and go through a strong orientation process. All interns complete a day-long orientation filled with Kohl's history, an introduction to corporate culture, and expectations of interns that are specifically designed to enhance internship success. Well-defined, measurable goals are established with interns, and most departments have a curriculum and training guide for interns that provides a clear understanding of what is expected of them during their time with Kohl's.
Kohl's intern managers provide constructive feedback and mentoring to interns. Each intern is also assigned an Intern Coach, a recent college graduate who meets regularly with their mentee to provide training and guidance. Interns also participate in three "College to Career" classes, where they learn about corporate communication, presentations, speaking on the spot, and other skills necessary to be successful in the corporate world.
Interns have many opportunities to demonstrate their learning through projects in their departments, but all interns also participate in a Final Impact Project. Interns select a problem and present their proposed solutions at the end of the internship. This final presentation is not only given to their team and manager, but to upper level management in their department. Almost all of the solutions get put into place for the next season or cycle after the interns complete their experiences.
Given Kohl's strong focus on community involvement, the company developed "Interns in Action," a day of service for all interns (200 Corporate Interns + 425 Store Interns). Interns can participate in a variety of "getting to know Milwaukee" activities, all designed to encourage networking. Ultimately, Kohl's interns are integrated into the company as if they were permanent members of the team.
According to nominating institution, Marquette University Career Services Center, Kohl's is one of Marquette University's most engaged employers. Kohl's participates in on-campus career fairs, and representatives from the company are always willing to speak to students in classes, programs, and student organization meetings. They participate on advisory boards, are willing to provide informational interviews, and post internship opportunities on university/college job boards.
Congratulations to Kohl's for providing an amazing internship program for college students!
In an effort to honor employers and partners from business, industry, government and other nonprofits, MACIC developed the Outstanding Internship Program award. It recognizes organizations who have distinguished themselves by developing quality internship programs. The award criteria include:
University Engagement
Structured Internship Experience
Professional Development Opportunities
MACIC members submit nominations, and the MACIC Awards Committee selects the winner or winners. In any given year, as many as three Outstanding Internship Program awards may be given – Large Employers, Small Employers (fewer than 100 employees), and Nonprofit/Public Sector.
Want to see more images from the 2012 Celebrate Internships social? Visit the photo gallery.